WCF Breeding Program
During the breeding season we are dedicated to providing mare owners with the best service possible.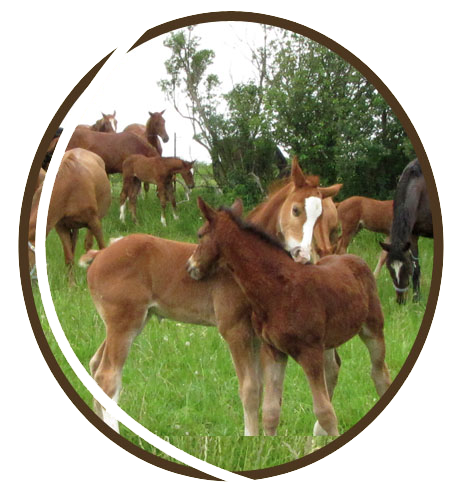 We collect our stallions Mondays, Wednesdays and Fridays and are able to cover six days a week through same day service via air (not available to all locations in the US or remote areas in Canada - please contact us ) or overnight service via Federal Express (our preferred method of shipping).
Semen shipments to the US have NOT been affected by Covid-19.
US Shipments are taken over the border on Mondays, Wednesdays and Fridays and shipped as domestic shipments out of Buffalo, NY, to avoid potential customs delays.
This service is available from March until early July .
While we like to receive our semen orders the day before we collect, we will try our best to accommodate last minute orders as well.
Shipments to the US leave for Buffalo at 9:30 a.m. EST and any orders received after 8:30 EST will be shipped direct via FedEx from Canada.
Our Goal: Your Mare in Foal
Our goal is identical with your goal. We want your mare to be in foal after the first insemination and we strive to offer the best service possible to reach that goal.
All of the stallions currently standing at our farm have excellent motility (approximtely 90 %) and conception rates.
All of our stallions are available for collection during the breeding season.
---
BREEDING FEES
| | | | |
| --- | --- | --- | --- |
| STALLION | COOLED SEMEN | FROZEN | |
| | n/a | $1,000 | ONE dose |
| | $2,000 | $1,500 | 2 doses |
| | n/a | $1,000 | 2 doses |
| | n/a | $1,500 | 2 doses |
| | n/a | $1000 | 2 doses |
| Stakkato Grande W | n/a | $750 | 2 doses |
| | n/a | $750 | 2 doses |
Live Foal Guarantee
We offer LFG contracts for all cooled semen shipments for mares that are not older than 17 years of age. Please contact us if your mare is over the age of 17 and you are interested in a LFG contract.
Our frozen semen contracts do have an "upgrade" option that allows you to enter into a LFG cooled semen contract should your mare not be in foal after insemination with frozen semen.
Special Requirements
Please contact us if you have any special requirements or concerns about our contract, we try to accommodate mare owners to the best of our abilities.
Discounts
Please enquire about premium or performance mare discounts as well as multiple mares and repeat breeding discounts.
Semen Request
For semen orders, call (519) 271-5322 (farm office) or text (519) 801-2000 (cell phone).
---
BREEDING CONTRACTS
MARE OWNERS
RESIDING IN CANADA


MARE OWNERS
RESIDING IN USA


Cooled Fresh Semen
Cabardino
HST (ON, BC, NS, NB, NF)

Cooled Fresh Semen
Carbadino


__________________
Cooled Fresh Semen
Carbadino
GST (AB, QC, MB, PEI, SK)

Frozen Semen
All stallions except Rio Grande

Frozen Semen

Frozen Semen
Rio Grande

Frozen Semen - Rio Grande