About W. Charlot Farms
Breeding Horses for over 50 Years in Germany & North America
Augustin Walch has been breeding horses for over 50 (!) years , first in his native Germany and since 1980, for over 35 years, here in North America. Augustin has carefully selected his stallions over the years (and he was very "lucky" on more than one occasion) and he believes in keeping the best mares for his breeding program.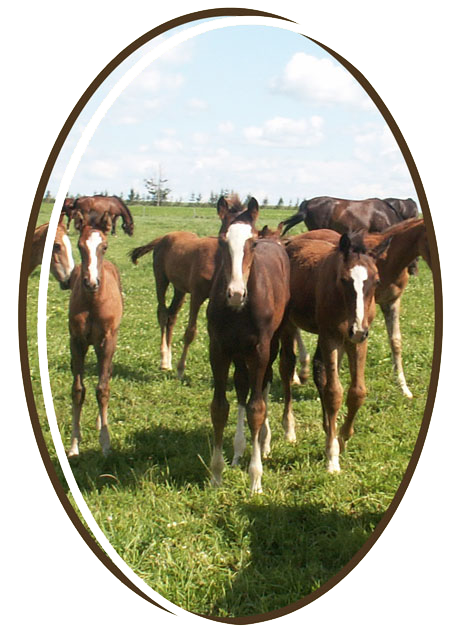 His goal has always been to breed an attractive looking, athletic horse with good gaits, lots of scope, a great technique over jumps and a wonderful working attitude that allows the owner / rider to develop the horse in more than one discipline.
Whether you are looking for a hunter, Derby, equitation, jumper or dressage prospect, you will find a selection of quality horses to choose from.
Matching Horse with Rider
We always stand behind our horses and if "you and your WCF born horse" are not a perfect fit, we promise we will do our best to work with you and rectify the situation to everyone's satisfaction. We don't just want to sell a horse, we want to "match" rider and horse and Augustin will tell you openly if he feels a horse is not the right choice for you.
Exceptional Athletes
We have been fortunate in that many of our horses have been in very capable hands over the years that made "our horses" develop into exceptional athletes. Although we occasionally offer horses with show records, for the most part we can only supply you with a "raw diamond", the "finished product" has to be created by you, the owner, rider and trainer in a team effort.
Amazing results in Canada, the U.S. and abroad in hunter, equitation, jumper & dressage
Several international show jumpers were born here at the farm such as Catwalk, winner of two World Cup Qualifiers or Millcreek Sparky, an international show jumper, initially competing in Europe and now in South America. Numerous Young Horse Jumper Champions were bred by us such as "Augustine" who won the Ontario Championships, the Eastern Canada Championships and the Canadian Show Jumping Championships for five year old horses in 2007. Ontario Jumper Champions born in Stratford include Pour Patrice, Pour L'Amour and Rio's Lovestory.
HUNTERS
2019 marks the fourteenth (!) year that we are USEF Hunter Breeders of the year.
Many of the best Hunters currently showing in the US were raised at Charlot Farms, such as Rio Renoir, Rio Echo, Eye Remember Rio, Vivaldi, Rio Jolicoeur and Rio's Roxanne as well as former Hunter Champion Rio Bravo and 2002 AHSA Horse of the Year Rio Bronco.
Many were sired by the late Rio Grande (pictured) who also excelled himself as a Grand Prix jumper who qualified for the Canadian Olympic Team. We still have limited amounts of Rio Grande semen available for the right mares.
Cabardino has been continuing the high standards set by Rio Grande and we are thrilled that Cabardino is the 2017 USEF Hunter Sire!
DRESSAGE
Thanks to our stallion Viva Voltaire we have raised several very promising dressage prospects over the past few years - most notably the Hanoverian stallion "Viva's Salieri" who was North American Breed Champion as a five year old at Dressage at Devon with a score of 81%.
Viva's Salieri and Tom Dvorak (pictured) achieved the highest score for Team Canada, which won team silver at the 2011 Pan American Games and Viva's Salieri and Tom Dvorak finished fourth individually.
Salieri continued his winning ways in Grand Prix and Grand Prix Special competitions in 2014 before he passed away at a young age.
HUNTERS & JUMPERS
Our youngest stallion Cabardino (pictured) who was both an open hunter champion and accomplished jumper, is producing exceptional horses for the hunter and jumper ring with a wonderful technique over jumps, excellent movement and a great working attitude.
We are certain his style and power will make future Derby champions too!
His offspring are starting to excel in hunter and jumper rings where they are often 'hack' winners too. Sabrina by Cabardino was the 2012 National Hunter Champion in the U.S. and Best Young Horse at Devon in 2013. Cafe Noir was the 2012 Winner of the Lt. Governor's Cup at the Royal Winter Fair in Toronto. WCF- bred Cordiano was 2013 Champion in the Ultimate Hunter Challenge for four and five year old horses.
Cabardino is now a proven producer of top horses for the hunter ring. His very successful offspring made Cabardino the 2017 USEF Hunter sire!
Viva Voltaire offspring are also excelling as hunters and jumpers with great scope and sound minds.
Please review our horses for sale pages and contact us at your convenience - we look forward to hearing from you.